Sometimes you have an ugly bathroom but it's functional and you have a lot of other rooms higher up on your to do list so you probably won't get to the bathroom for another year or two.  The challenge is to make the bathroom pretty (or at least livable) in the meantime without spending a lot of $$$ because it's just a temporary fix…you know, until you can really get in there and tear some walls out!
Temporary rooms are a BLAST  to decorate because you can go a little crazy with textures,  wallpaper, paint, lighting and make choices that you  normally wouldn't make — because you always consider resale in all your remodeling decisions.  (Or is that just me?)
The first order of business in an ugly bathroom is to give a sad builders mirror a facelift.  Here are some great ideas for updating a bathroom with mirrors.
Update Your Bathroom with a DIY Mirror
1.  Use Trim Molding to Create Interesting, One-of-a-Kind Details
Use a little mirror adhesive, caulk, or even hot glue to add trim moldings right onto the mirror. Think geometric patters that can be easily achieved with a miter saw and a little caulk. Make sure to paint the bottoms of the molding as the back edges will be reflected in the mirror.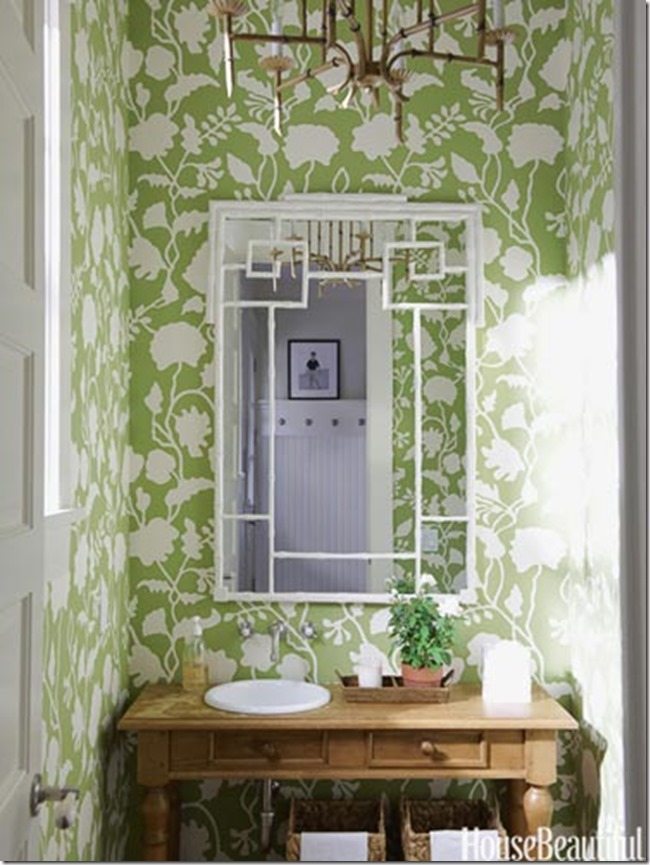 2. Layer Mirrors
Adding a beautiful mirror (or several) on top of an existing mirror can get you from ho hum to holy moly in a flash! If you want this to be a permanent install you can use a glass/tile bit to drill through your existing mirror and then add a drywall anchor (or screw if you hit a stud) and picture hanging hardware. If you don't want to drill a hole in your existing mirror you can add a picture hook to the wall above the mirror or into the ceiling and then use invisible hanging wire. a decorative ribbon or cord could also be used to hide the hanging mechanics. Just make sure to use appropriately sized and weighted hardware for the weight/size of your mirror. Use felt bumpers, or even better, museum putty to protect the bottom mirror.
So sparkly and pretty!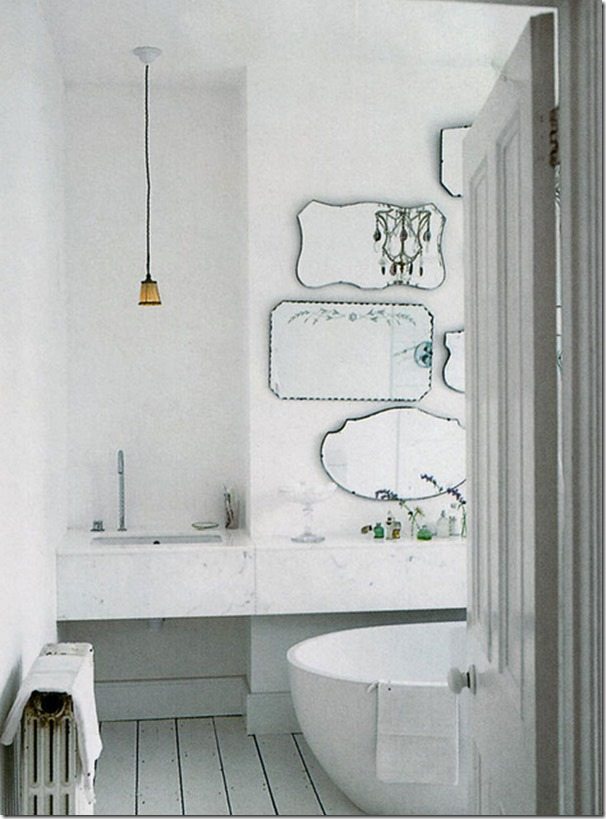 What about a wall of mirrors?  Hang an assortment of mismatched mirrors, either on top of an existing mirror or on an opposite wall for a multitude of reflections.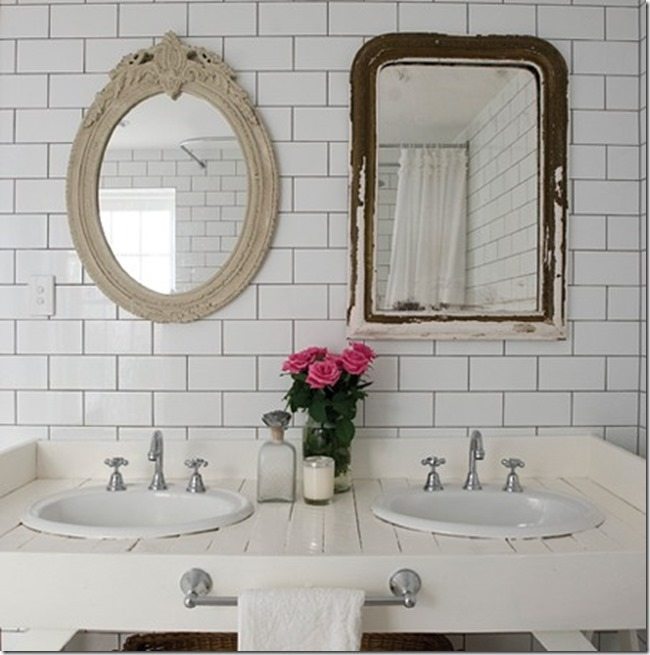 Source:  House and Home
Imagine these his and hers mirrors hung onto a builder's mirror—so Fab you would never even notice the plain Jane mirror underneath!
 3.  Paint a Border or Interesting Detail
Use a stencil and glass paint to revamp the look of an existing mirror. With all of the amazing metallic spray paint and fantastic stencils out there, the sky is the limit.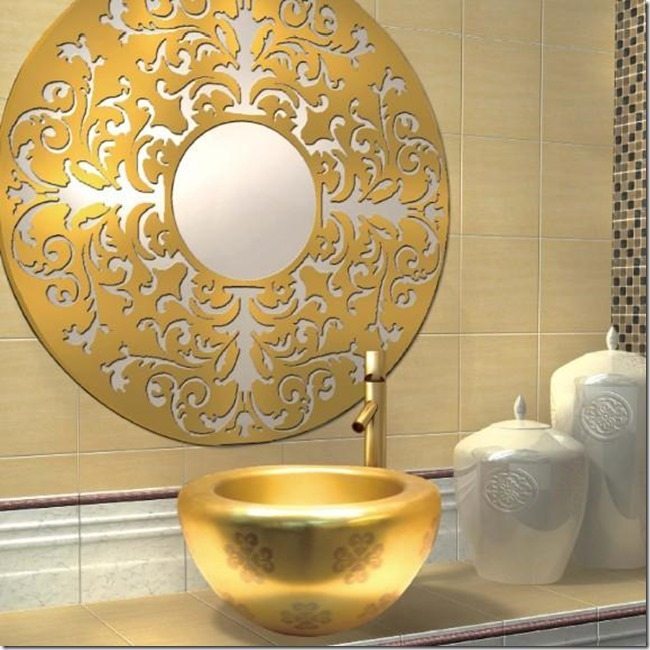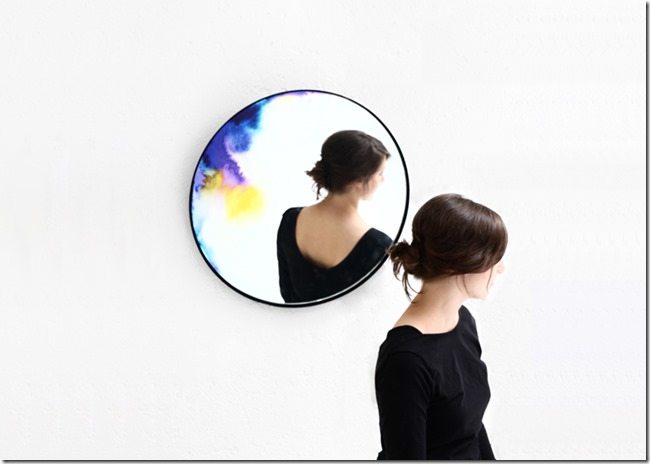 I love these water color mirrors by Constance Guisset! They have so much movement and drama, I half expect a face to appear and tell me that I am, "the fairest of them all." Ardor has a tutorial on how to make your own version here.
 4.  Create a frame with Tile
Even if you choose super expensive tile, this is a cheap option because you only need a few feet for a frame (measure and calculate based on your mirror's dimensions).  Use caulk to glue the tile onto your mirror and then grout.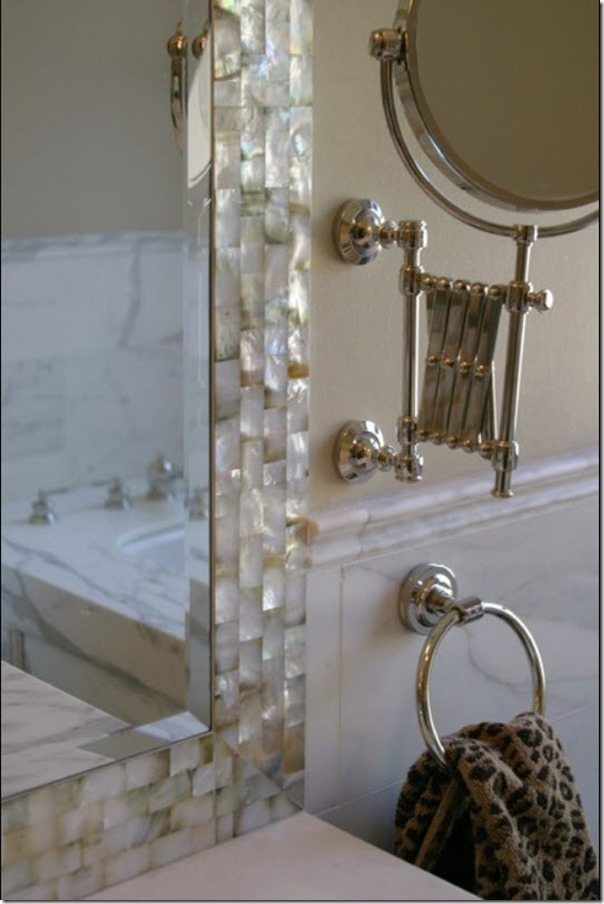 5.  Create a frame using Unexpected Materials
Buttons, coins from your travels, silk flowers, driftwood, barn wood, a pretty tray, old windows—you are only limited by your imagination. Have fun, take some risks—glue, caulk, and paint can be removed pretty easily with a paint scraper when you are ready to try something new.
Here are some pretty pics for inspiration.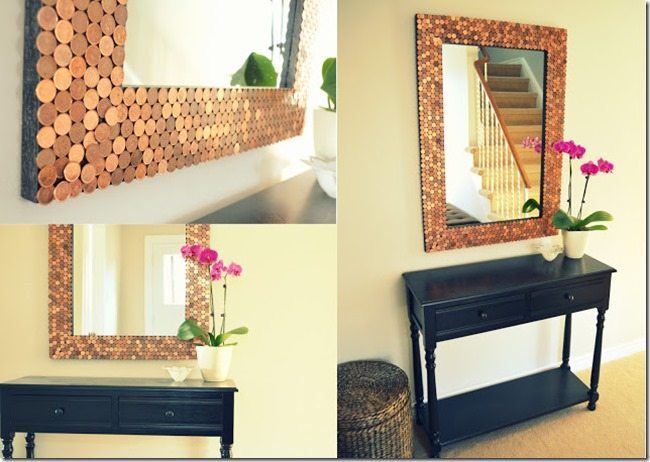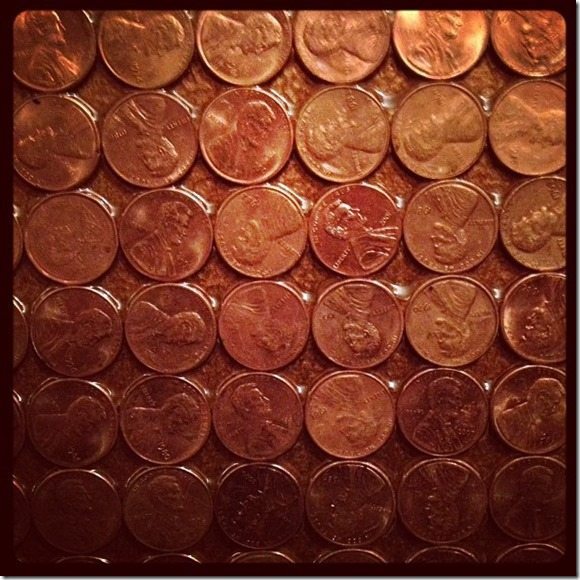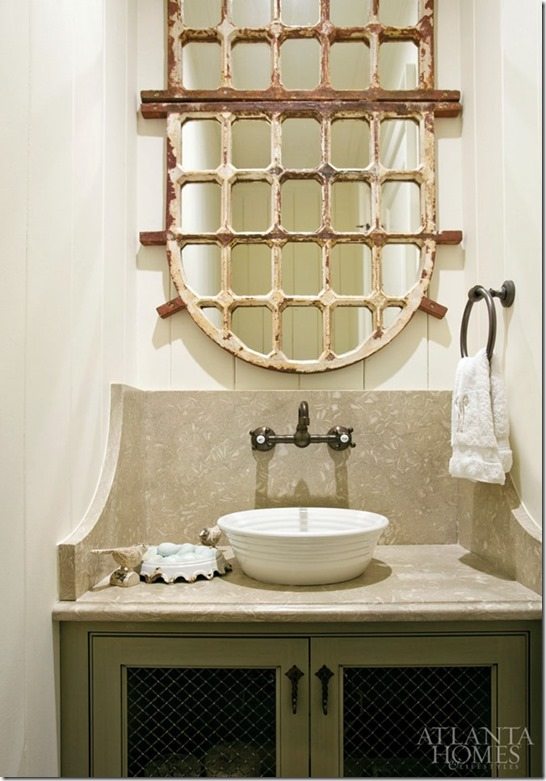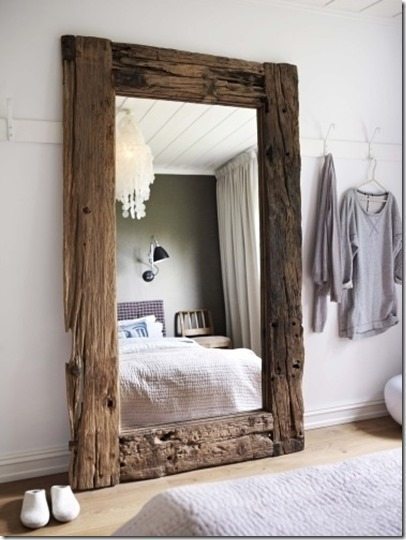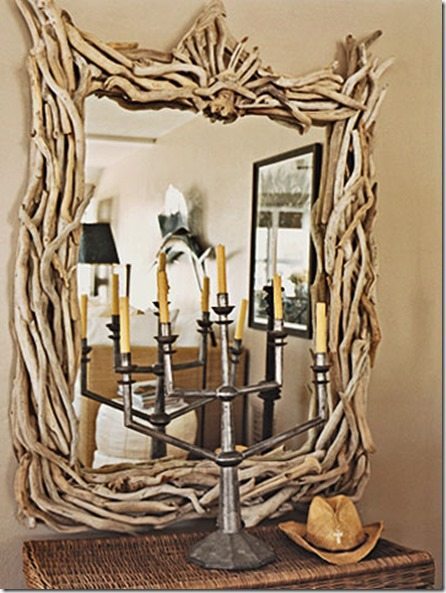 There are endless options for framing out a plain mirror — just let your imagination carry you away.
Other posts you might be interested in if you have an ugly builder grade mirror:
How to remove a Builder's mirror
Make a cool framed mirror out of a builder grade mirror.