I've got a million projects going on at once but things are getting done and it's very exciting!  One room that is very close to getting crossed off my GIANT To-Do list is my powder room.  It now at least has a toilet!  I went with this  American Standard Boulevard Oval 1 Piece Toilet  from National  Builder Supply.  I really wanted a one piece, skirted toilet because I  HATE cracks and crevices that need to be cleaned.  Especially when we're talking about cleaning toilets.  The topic in general is not sexy but — you know — everyone goes.  So yeah for toilets!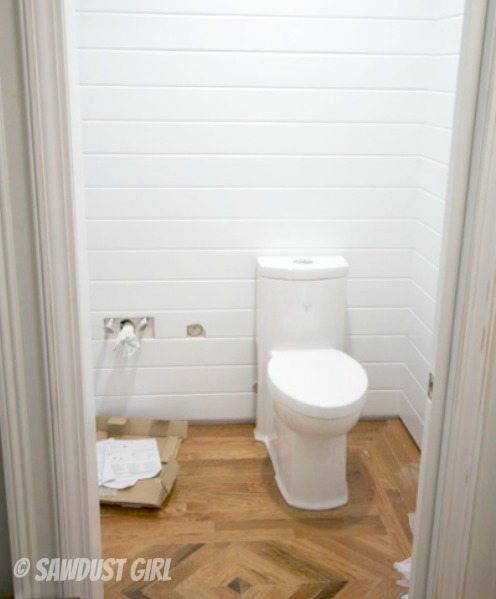 This was once a full bathroom, until I discovered that part of the bathtub was jutting out into the living room, hidden by a huge corner coat closet that took up an entire corner of my small living room.  I tore everything out, reframed the bathroom space into a powder room and let that room sit for about a year.  Then I installed the floor and let it sit empty for another 6 months.  Now I'm back in that room and ready to finish up.  I picked out my new toilet from National  Builder Supply and it arrived while I was in AZ filming my SheKnowsTV HomeStretch episode.  Wes texted me and said, "This must be the biggest toilet ever made!"  The box was almost as tall as me.  (OK, not quite.)  It was packaged WELL!  After 30 minutes of unpacking…it was in perfect shape and we got to work installing.
I have to say, this is my first toilet install.  I can hardly believe it myself!  Over the course of remodeling 5 homes — I have never installed a toilet.  Well, there's a first for everything…but I didn't tackle it alone.  I was warned that a one piece toilet would be heavy (and that was NO exaggeration).  Wes and I spent some "quality time" together to tackle this task.
First thing to do when replacing a toilet is remove the old wax ring.  I know it's just wax but I find this to be a really gross task — so Wes did it!  😀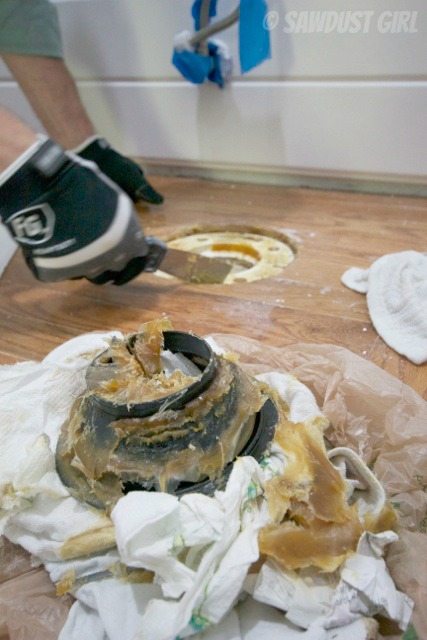 Apparently, I installed my new floors TOO perfectly and there was no way to get the bolts into these slots to hold the toilet in place.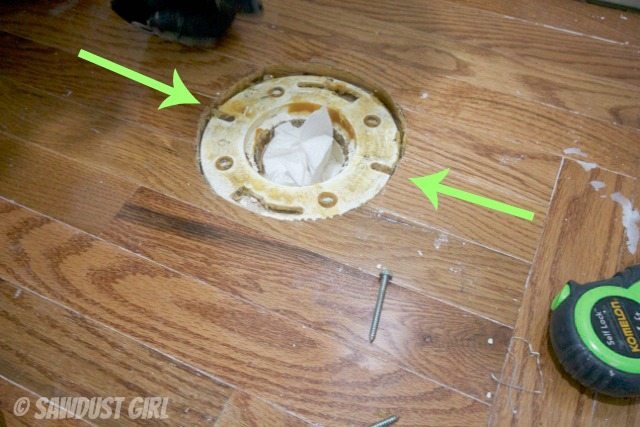 So I  drilled holes in my wood floor right next to the flange so I could get the bolts into place.  Easy fix.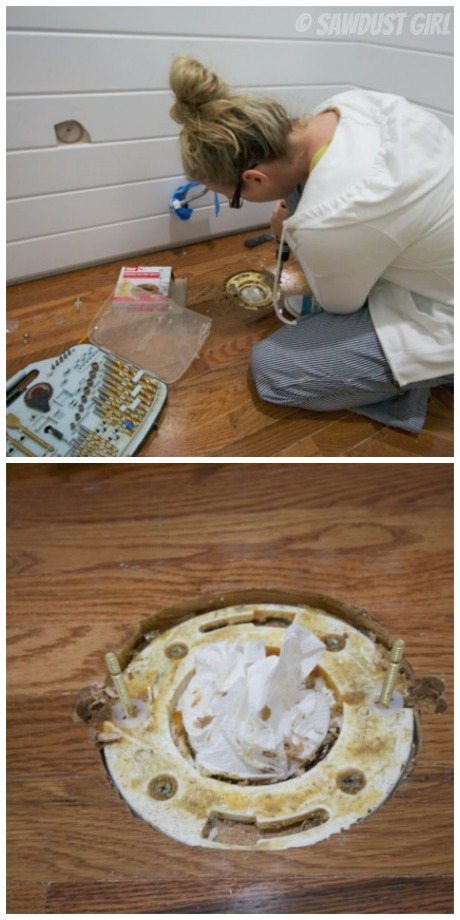 But then cleaning up all the sawdust was tricky because it just stuck in the wax that was smeared on the flange.  It didn't vacuum up too well.  Painstakingly cleared off all the sawdust and remaining wax.    Uggh!
Our floors extend slightly above the toilet flange so we used an extra thick wax ring made for this purpose.  This part was easy:  Tip the toilet back, pull/break the packaging off the wax ring and then stick the ring to the underside of the toilet centering it right over the drain hole.  If you rotate it back and forth just a tiny bit it will stick in place and hold while you get the toilet in place.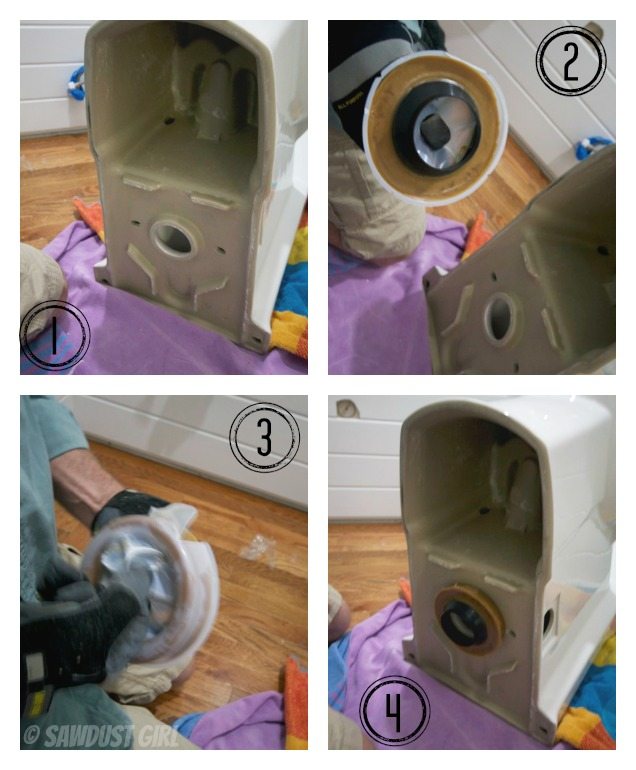 Which is easier said than done.  We had to lift the toilet up and center it over the flange and line up the bolts that are sticking up through the flange…and this puppy was heavy!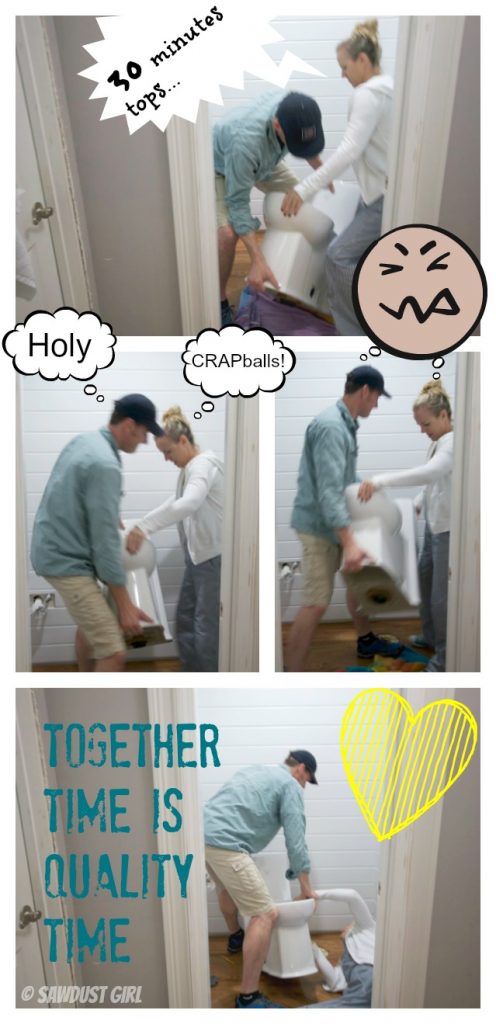 I ended up laying down on the floor to try to line up the bolts.  Because of the skirt, the holes for the bolts are covered and it was very difficult to see if we had it lined up correctly.  But we got it!
Then getting the washer and nut on and tightening it up was a tiny bit difficult for the same reason…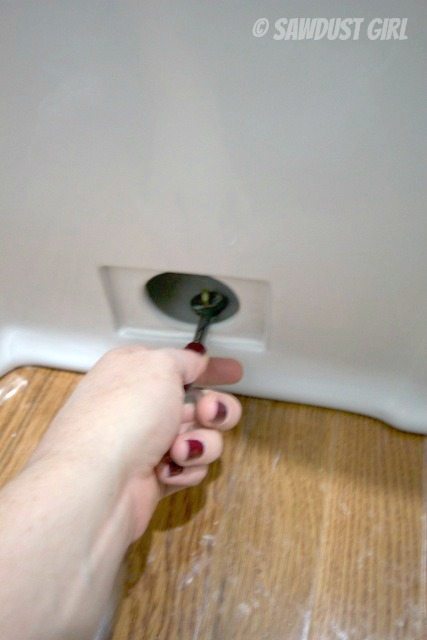 BUT totally worth the extra effort because I LOVE not having that ugly knob that sits on the top of the bolt and gets all disgusting on a regular toilet.   You know what I'm talking about.  This toilet has bolt access covers on the side.  This hook and loop adhesive has some serious stick.  I peeled off the backing and stuck it in place.  I could reposition it immediately but the longer it sits the stronger the bond gets.  After a few hours it was fully stuck and now if I need to access that area the hook and loop will give, not the adhesive.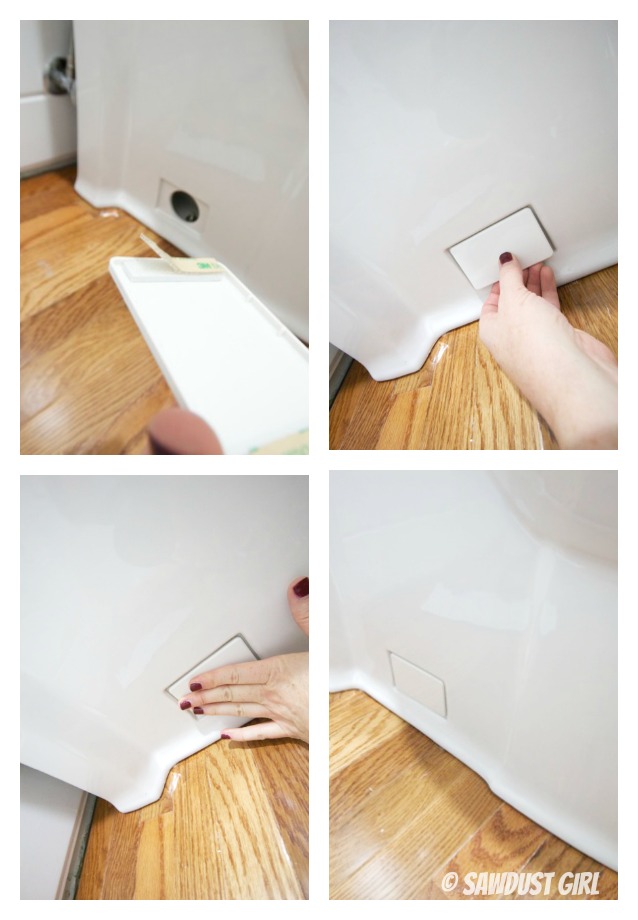 Sleek!
The double flush mechanism was easy.  I stuck the blue and black thingamabob into the holes on the flush button thingy that was already attached to the lid and then set the lid in place.  Testing testing…flush 1 — flush 2.  Bingo!
Then the toilet seat.  It looked intimidating but the instructions were intuitive and it was a piece of cake.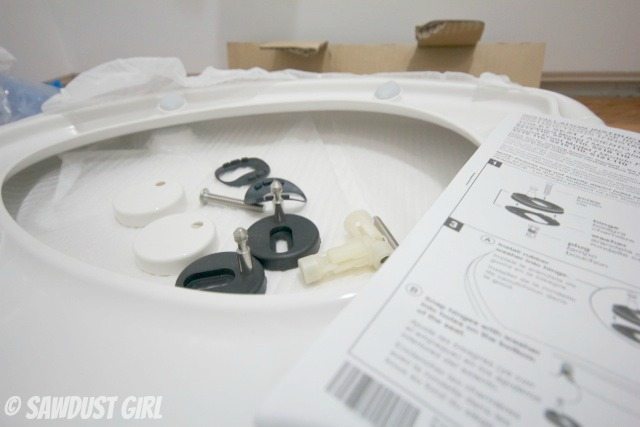 Push the plastic screw anchors into place.
Put the black washer on the "hinge".
Insert the stem of the hinge into the corresponding hole in the seat.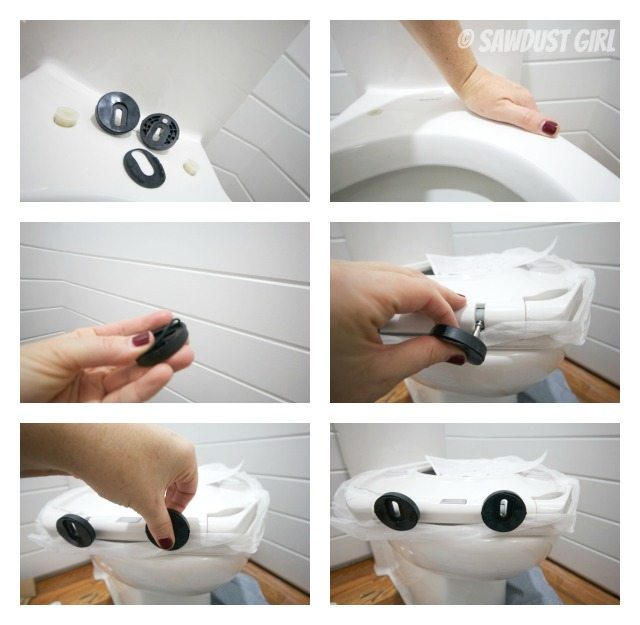 That was easy!
Then I just lined the seat with hinges over the screw anchors that I had inserted into the toilet, dropped in the provided screws and tightened.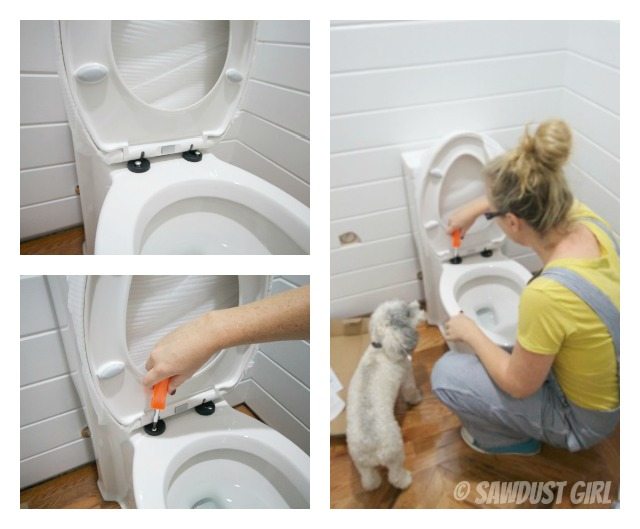 I didn't even know this was a feature when I ordered this toilet but the entire seat removes with the press of a button (or slide of a lever) for easy cleaning and initially to attach the covers.  Everything on this toilet is buttoned up tight and so easy to clean!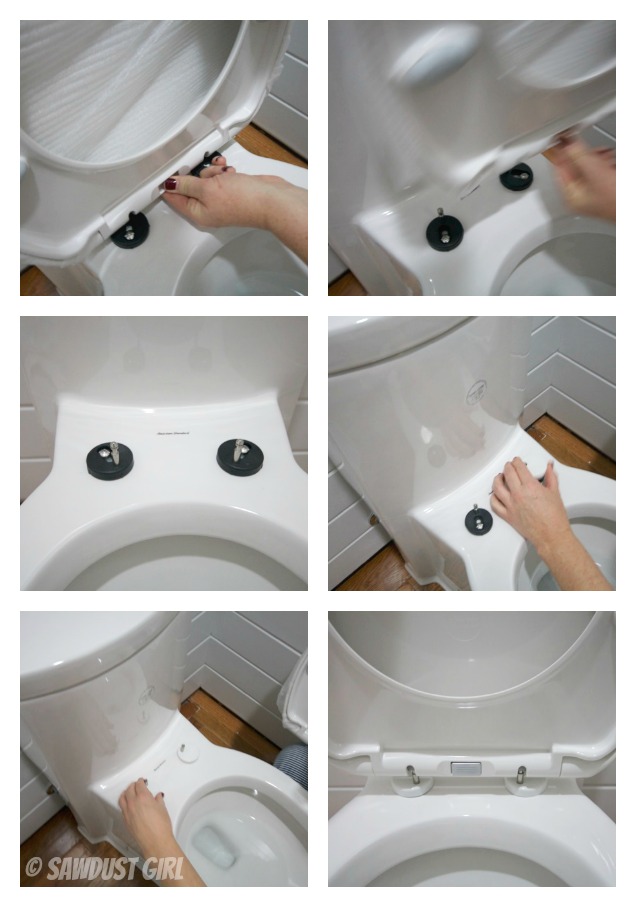 AND the included toilet seat and lid are both soft close so no accidental slamming when someone else forgot to put the seat down.  Or close the lid.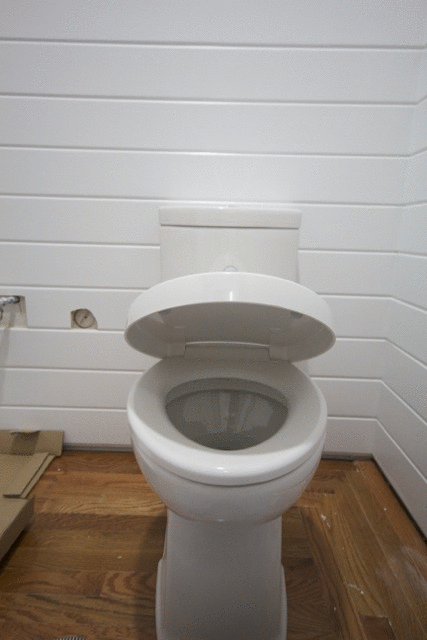 One potential problem with a skirted toilet is to make sure you note the distance of the drain flange and the location of the water access.  I was super lucky that this all worked out — and it barely did.  It needed to be centered behind the toilet or off to the side where you'd have enough room to turn it on and off without scratching the toilet.  I knew nothing of this before I ordered and luckily it turned out.
*Reading the installation specifications before I ordered would have been a good idea.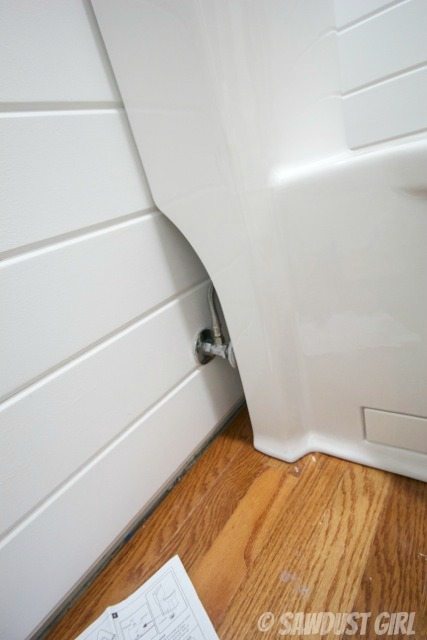 I love the one piece and the skirt and will definitely be installing more of these as we redo more bathrooms.  AND we will definitely be doing the two person installation again too.  Or I'll watch Wes lift it into place.  There is NO WAY I could have lifted this thing myself. I'm just not that strong.
Wes didn't hate the process too much either because he even said, "let's put these in all the bathrooms".    Coming from someone that hates DIY'ing, that's something.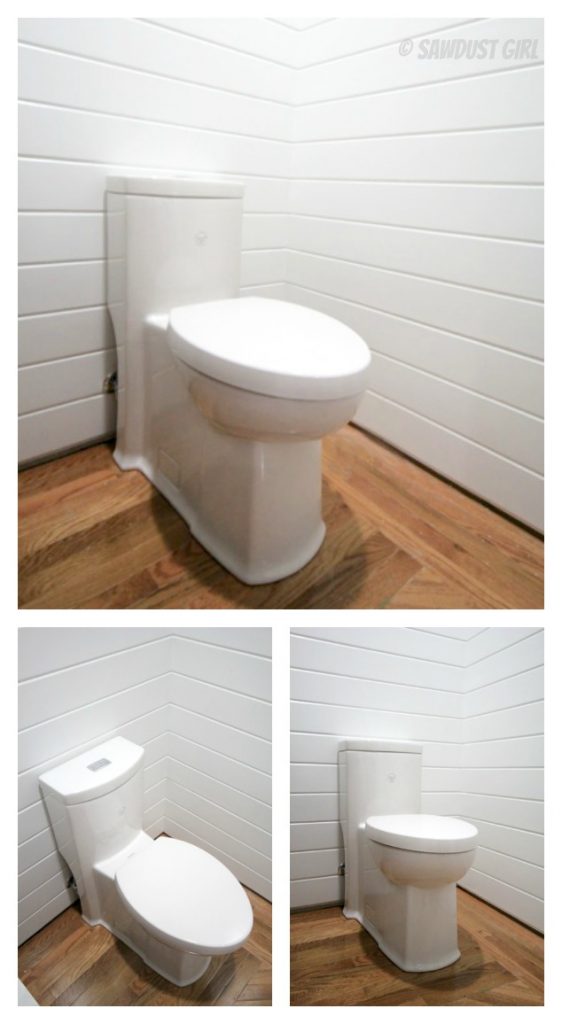 If you happen to be in need of a bathroom makeover, National Builder Supply is currently having an "Ugliest Bathroom Contest" on Facebook.

"This post is sponsored by National Builder Supply.  I received compensation and/or product for the purpose of promoting National Builder Supply. All expressed opinions and experiences are my own words.  My post complies with the Word Of Mouth Marketing Association (WOMMA) Ethics Code and applicable Federal Trade Commission guidelines."
Related Posts