Recently a friend called me with an EMERGENCY.  She was putting her house on the market and her built-in bookcase looked like a moving van had thrown up on it. Every nook and cranny had been filled, with stuff, stuff, and more stuff. It was a haphazard jumble of chaos. "We can tell it doesn't look good, so we keep putting more things on it", my friend said, "but it doesn't seem to be helping."  We spent a couple hours making it look awesome with these tips for how to style beautiful bookshelves.
how to style beautiful bookshelves
1. Start with a blank slate:
Empty everything off of the shelves, and then organize what you have. We started by identifying the things that she loved and wanted to feature. Group like items together: organize books by size and then by color; group collections together; group things by texture, color, material, and/or size. Having an organized pool of source materials makes it easier to create an organized and beautiful display.
While your bookcase is empty this is a great opportunity to paint.
Or wallpaper the back of your bookcase to amp up the personality.
Too much of a commitment? Cut 1/4 inch lightweight plywood  to fit the back of your case and paint or wallpaper. Bonus: you have 2 sides to play with and its super easy to change.
2.  Know your endgame:
How does your bookcase need to function in the room? Is it primarily decorative, or do you need it for storage? Is the bookcase going to be a focal point in the room or do you want it to play into the background? What is the aesthetic you are going for?
Do you yearn for something modern like these long linear shelves featured in Elle Decor?
Elle Décor
Would you love a monochromatic bookcase, like this one featured in Greige, that adds texture and structure to your room?
Or are you looking for a kaleidoscope of color and pattern like the rainbow bookshelves featured in Freshome.
Whatever your vision, having a clear picture of what you need and how you want your bookcase to look and function in the beginning will help you get where you want to go.
3.  Spread the love around:
In general place heaviest/largest items on the bottom shelves, lightest smallest at the top with the things you want to feature at eye level. Group like things together, try to have a repetition and balance of color, pattern, and texture so that there is visual flow, like in these amazing black and white shelves featured in Freshome.
But rules are meant to be broken, so play around until you find what pleases your eye. Play with symmetry and asymmetry, color, texture and pattern. Find what you like.
4. Shift perspectives:
Step back and look at your work from different vantage points in the room. Sometimes what looks great up close looks wonky from across the room. If there is seating in the room be sure to look from a seated position. I once was surprised to see that I had forgotten to paint the underside of one of my shelves 2 years later after I installed them, when I sat in a chair and looked up.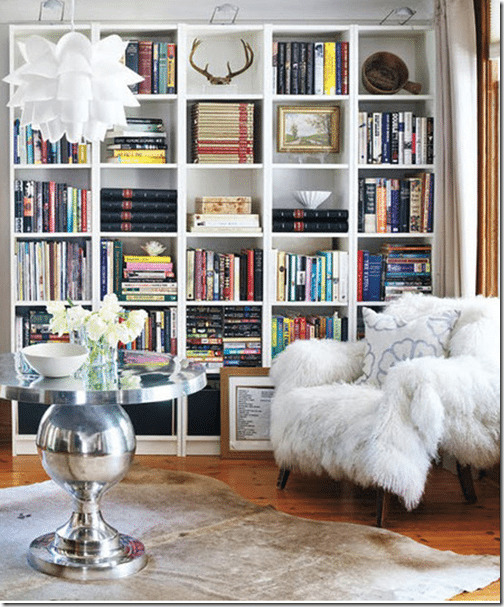 5. Camouflage can be beautiful:
Use baskets, boxes and other decorative containers to hide less attractive objects like remote controls, toys, and other clutter, like I did in my library.  You will never guess what is hiding in those baskets.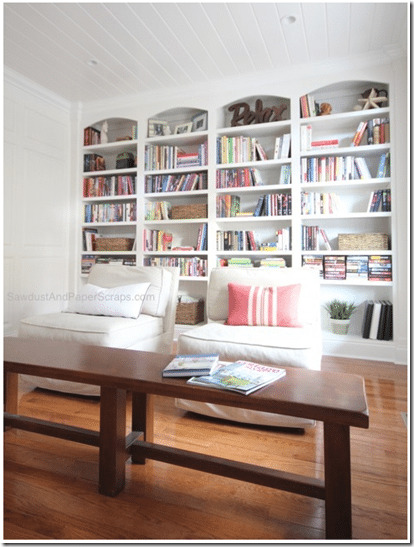 6.  Let YOU shine through:
I'm probably not going to spray paint a collection of troll dolls silver and display them on a bookcase in my house anytime soon (ever), but if you want to do that in yours, I so want to see it!!!!
Have fun, be quirky, show off, let your personality shine, after all with these tips it will be easy to restyle your bookshelves when you are ready for a change.