Make these awesome DIY Skull Candlesticks for about $5 each out of thrift store lamps and dollar store skulls.  This is an easy DIY project that you can throw together in about 30 minutes to rival any Halloween decoration you could find at a Halloween Superstore or Home decor  Halloween display for upwards of $15 each.  Be on the lookout for inexpensive lamps on your next thrift store run and stock up on a few dollar store skulls and get you spray paint ready.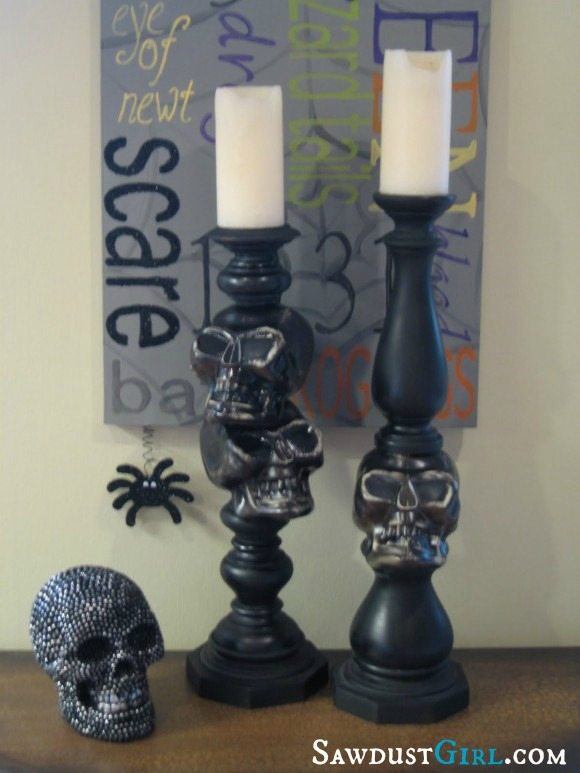 Supplies:
-2 lamp purchased at Goodwill (about $3 each)
-3 plastic skulls purchased at the dollar store ($1 each)
-1 can of satin black spray paint (the cheap stuff from Lowes- $1)
Most lamps come apart by twisting the socket and using a screwdriver or pliers to hold the screw or nut on the bottom of the lamp.
1.  Take your lamps apart and paint all the pieces
2.  Drill holes in your Skulls.
3.  Mess around with configuring all the parts until you find a design your happy with.  I put these together about 6 different ways before I decided on this particular arrangement.  I used the lamps original rods, which are threaded both ends, so I had to play with adding and taking away pieces to make them just the right height.
4.  Take everything apart and paint the SKULLS!
5. Distress.
6.  Put them back together.
You could drill a hole in the tops that are deep enough for the nut to fit down inside so the top is flush.  I didn't want to take the time so I just screwed it right on top.
My candles are a little concave and it doesn't matter a bit.
If you're candles are flat on the bottom, just melt a little wax away to make room.
Total cost for both candlesticks: $10
Related Posts