Sometimes I just don't have the energy to cook a proper meal.  By proper I mean one with actual side dishes, or at least a salad.  Sometimes I am just up to my eyeballs in projects, laundry, or a good novel.  Er, I mean a good volunteering opportunity at my kid's school.  Can I get an amen?  If you have perused the blog you know I am not going to take my kids to dinner unless it's dire.  See this and this for more on that.  And the pizza place that does deliver to our house?  Retch, gag, barf in my mouth.
Don't get me wrong, I like pizza.  Heck, I love pizza.  Who doesn't?  Someday I'm going to have Sandra build me a wood fired pizza oven in my backyard.  (She doesn't know that yet, but trust me, it's gonna happen).   She just has to learn to set brick.  Until she does though, I will be content making these delicious home made pizzas in the comfort of my own kitchen.  Did I mention that the crust can be par-baked (that's half-baked) and frozen.  Well they can, and it certainly makes dinner in a pinch so simple.  Just pull those suckers out, put on your toppings, and bake for a few short minutes.  You get a yummy home cooked meal that everyone loves in just minutes and you don't have to scour under all your couch cushions for tip money for the delivery boy.  Win. Win.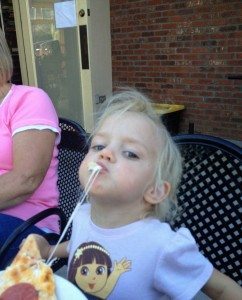 Who doesn't like to eat food totally hands free?  You could still sand and patch while eating dinner, talk about multi-tasking.
If you don't have experience making dough, or using yeast, don't be alarmed.  This pizza crust recipe is so basic and virtually impossible to mess up.  It's not like trying to make dinner rolls, I promise.
The full recipe for this healthy amazing pizza crust is HERE. You can hop over and print out the recipe.
Directions:
1.  Combine warm water, yeast, and honey in a bowl.  I use dry activated yeast as opposed to instant yeast.  I don't take the temperature of the water, I just run it over my hand until it feels like a nice warm shower, and go with it.   I like to add the honey first and stir it in to the water so it dissolves and doesn't just sink to the bottom of the bowl.  I let the yeast mixture proof in a glass or ceramic bowl.  For some reason it just seems to work better.  Proofing, is the reactivation of the yeast.  The honey feeds it and it becomes nice and foamy.
2.  Once the yeast is foamy, add to mixer with remaining dough ingredients.  I like to use whole wheat flour or a combination of organic white whole wheat and other flours.  Add flour a bit at a time until the dough is not super sticky, but not overly dry either.  It should be sticky and soft when you pick it up, but workable with a bit of flour.  Very important here:  Do not neglect to add the salt and rosemary.  If you are violently opposed to rosemary for some reason, then you might want to add some garlic salt or onion powder.  The difference between blah-say dough, and really yummy dough, is the seasonings.
3.  Knead the dough by hand or in the machine for 5-6 minutes.   Place dough back in bowl, then cover with oiled plastic wrap and let rise.  Usually 25-35 minutes will do.  Divide the dough into 6-8 small balls, and let rise again until double.  Now I have only let the dough rise once on occasion, and it has been just fine.
4.  Roll dough out or hand toss it if you are really awesome, into pizza crusts.  Go thin, because the dough will raise almost double  in the oven.
5.  Place crusts on cookie sheet or pizza stone. Bake the crusts for 4-6 minutes at 450 degrees.  If you are going to freeze them, remove from heat and let cool.  Crust should be tender but not doughy.  Wrap in plastic or store in ziplocs and freeze.
6.  If baking, add toppings, and take off cookie sheet and bake directly on rack for another 4-6 minutes.  This will ensure the crust is crisp on the bottom, not doughy.  Bake until cheese is bubbling, and the smell is enticing.  Like so: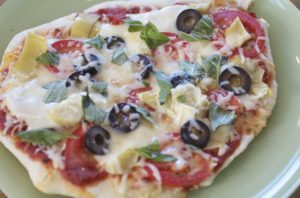 One batch of the dough will make 6-8 10″ crusts.  I like to double it and freeze crusts for later.
Find the full printable recipe for this healthy amazing pizza crust HERE. 
And don't limit yourself to pepperoni and cheese people.  Try some of THESE great combinations for pizzas that are unique, flavorful, and even meat free…if you are into that.
Related Posts