We're super excited in our house because we decided to adopt another puppy!  She's only 3 weeks old right now so we have a while to get ready for her.  I've been looking at lots of CUTE Dog Bed Ideas.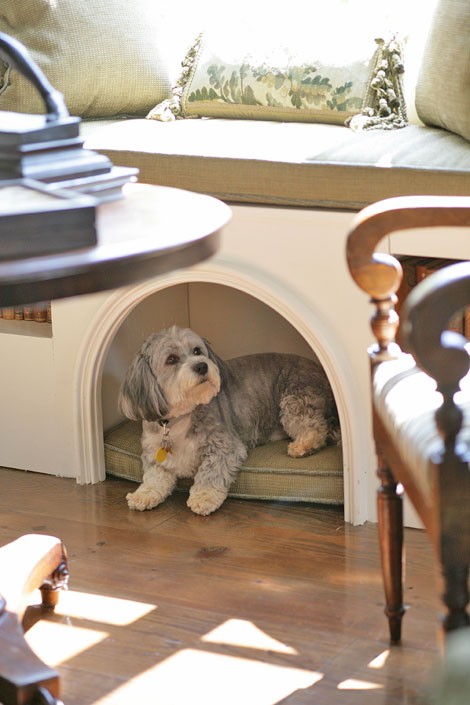 8 Creative DIY Dog Bed Ideas
1. Night Stand Doggie Bed
How adorable is this?  Now Fido can sleep right next to you, guarding your glasses from intruders.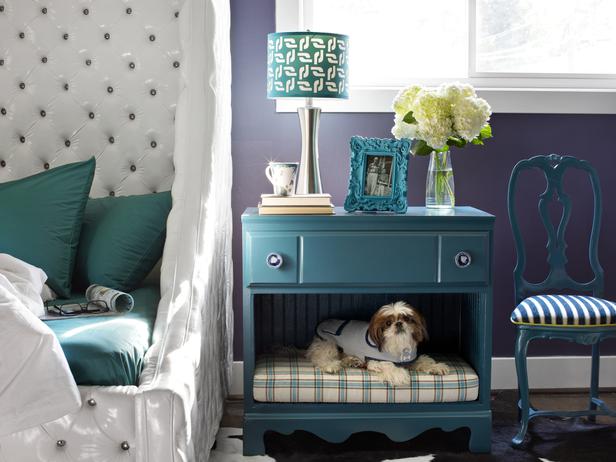 Source: DIY Network 
2. Elegant Frame Dog Bed
This clean, elegant dog bed will look great anywhere. You know, it kinda looks like it belongs in our new kitchen.  Mom would love it, seeing as how she has a strange addiction to the color white…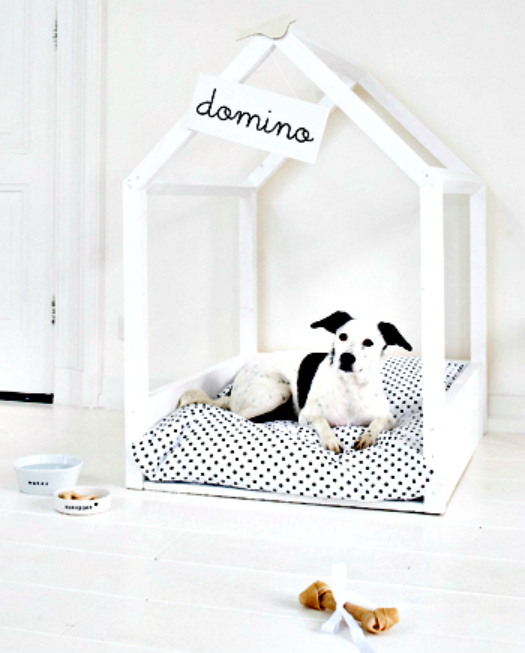 Source: 101 Woonideeen
3. Rustic Wooden Barrel Pooch Seat
The wooden barrel bed is possibly the coolest dog bed. I mean, look at it!  This one is for sale at Shoppe but it would be easy to make — as long as you have a barrel lying around.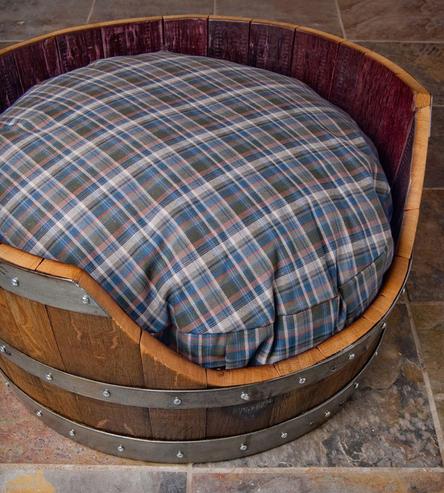 Source: Shoppe
4. Upturned Chair Pretty Kitty Bed
What? Did kitty knock over the chair?  This design is quite interesting. The legs almost look like bed posts. As with the last one, the construction is very simple and fast!  Cut off the chair back, paint, and enjoy!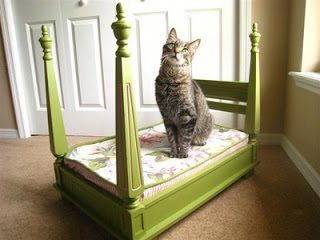 Source: Junk Camp
5. Side Table Doggy Den
This bed has a Greek feel to it. Although similar to the night stand, this bed belongs in your living room, right next to your couch.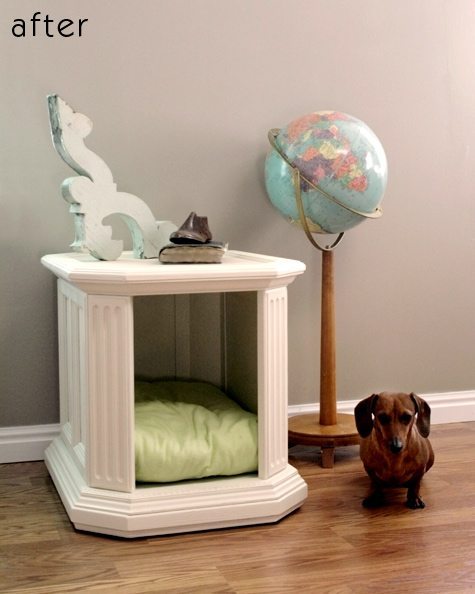 Source: Design Sponge
6. Cute Doggy Drawer Bed
I love that blue/green color. And I love that umbrella.  It's so adorable!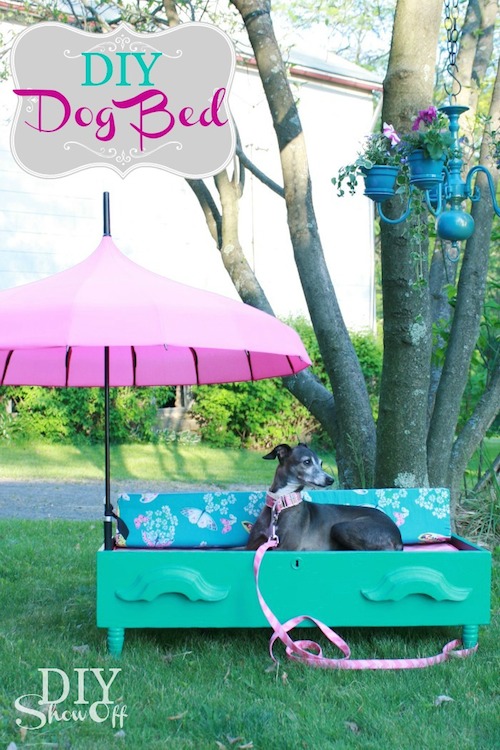 Source: DIY Show Off
7. Crate Dog Cushion
Sometimes, it's good to keep it plain and simple. This is a cute country-fashioned doggy bed and the chalkboard at the bottom is a nice touch.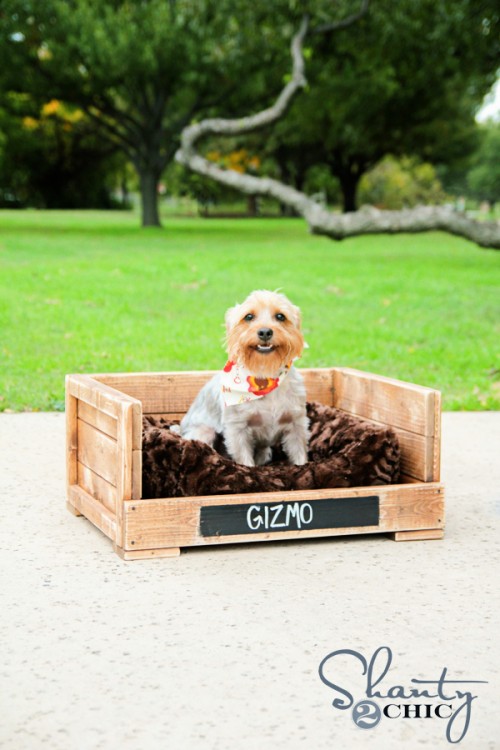 Source: Shanty 2 Chic
8. Window Seat Nook Dog Bed
Perhaps one of the most creative items on my list, this bed reminds me of a mouse hole.  It's really cute, and the dog in the picture reminds me of Brody.
In addition, it is out of the way, and is sort of hidden.  I think this bed is a really cool design, and could definitely see it finding a place in our house one day.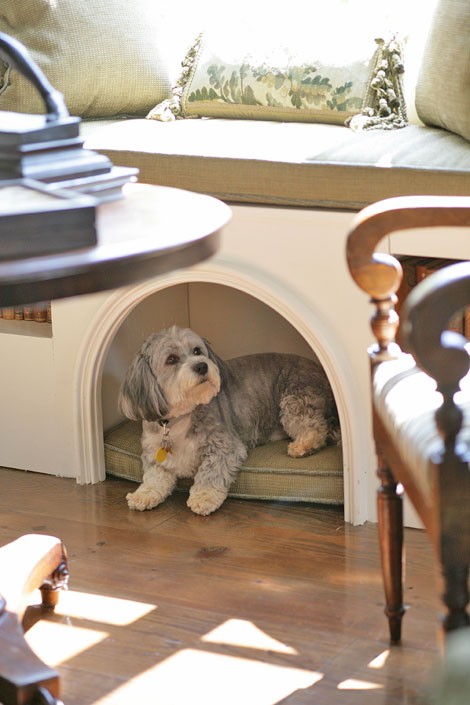 Source: Hooked on Houses
That's all the doggy inspiration I have for you today. This was really fun, let's do it again sometime!
Check out this Built-in Doggie crate bookshelf!