When the bedroom becomes more about snoozing than snogging, it's time to AMP up the romance factor.  Try with one of these tips — and then get ready for the "sparks to fly".
1.  Add Sparkle:
A beautiful chandelier, gorgeous mirror, or even just candles on the bedside table, adding sparkle to your bedroom can be a visual reminder of the sparks you want to make together!
source BHG
Source Houzz
2. Spice it up:
A recent study found that people who decorate their bedrooms in bold colors have more active sex lives. Add some spice to your bedroom by mixing in colorful pillows, throws, and artwork. These items can be inexpensive and are easy to change when you are ready for something new.  Spread the color around the room in several places so that it feels integrated with the rest of the décor.  "What were the best colors for an active sex life?" you ask. Purple then red—the colors of passion.
Source ElleDecor
Source Lonny
3. Mood lighting:
Low lighting creates ambiance and is very flattering. Install dimmers, utilize lamps with shades that softly diffuse light, spread candles around the room. Nothing kills the mood faster than glaring unflattering light, but with soft lights making you look and feel gorgeous…
source Homedeco2u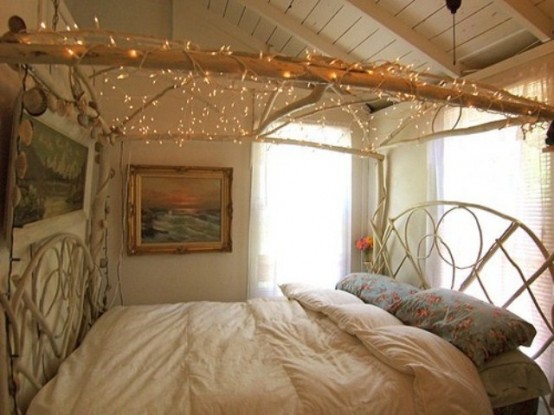 Source DigsDigs
I wouldn't do this year round, but now and then white sparkle lights over the bed might be fun!
4.  Add a Canopy:
Nothing says romance like a canopy bed, and they can be really simple to install (and take back down).  Hang inexpensive curtain rods, dowels, even tree branches from the ceiling and drape with fabric.
Source Lonny
Source ElleDecor
5. Opposites Attract:
A room doesn't need to be all frills and ruffles to be romantic. A mix of both masculine and feminine can create a decidedly romantic and sexy bedroom. Mix in masculine prints, dark furniture, strong accessories and get ready for sparks to fly!
Source HouseBeautiful
Source Lonny
6.  Add something soft:
A cashmere throw, velvet pillow, silky robe, or fur rug; anything that feels great against your skin and reminds you how much fun it is to be…well, naked!
Source ElleDecor
Serene, sexy, or still under construction, whatever the state of your bedroom, have a Happy Valentines Day!!!