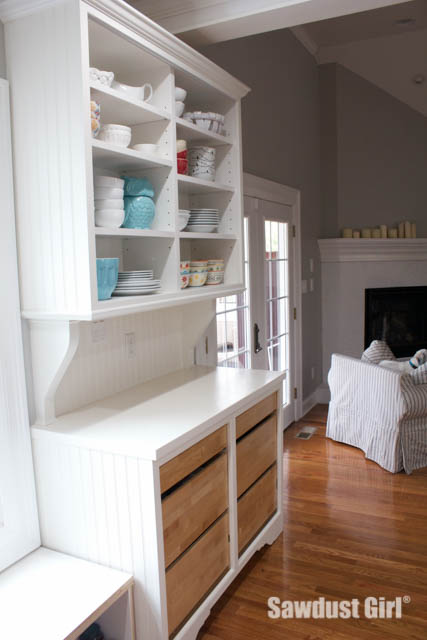 So now the China Hutch looks pretty because it's dressed up with crown moulding, corbels, decorative toe-kick and a beadboard backsplash.  After completing all that, it was time to focus on the things that would make it functional: shelves and drawers!  As soon as I drilled shelf pin holes and added shelves, I couldn't wait to load them up with fun dishes that make me smile.   I'm a big fan of fun dishes!
This post contains affiliate links.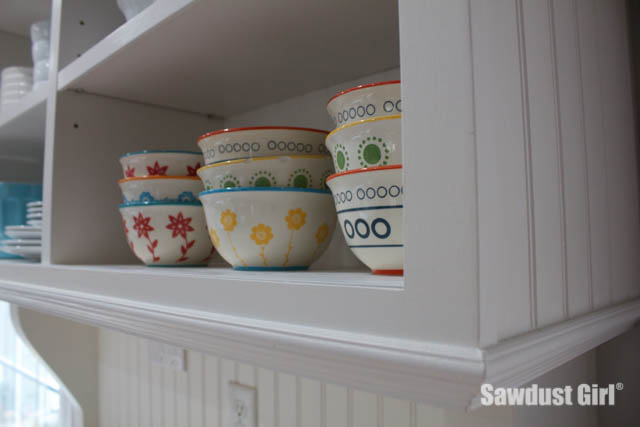 I'm also a big fan of drawers for storage.  I find them 100 times more efficient than shelves so I definitely wanted drawers on the lower section.  In an effort not to take 500 years to finish this kitchen remodel, I outsourced my drawer construction.  I ordered my drawers from QuikDrawers.com and they are beautiful!
I ordered drawers that are 5/8″ thick solid birch, dovetailed, pre-finished and notched and bored for my Blum Tandem plus Blumotion drawer slides.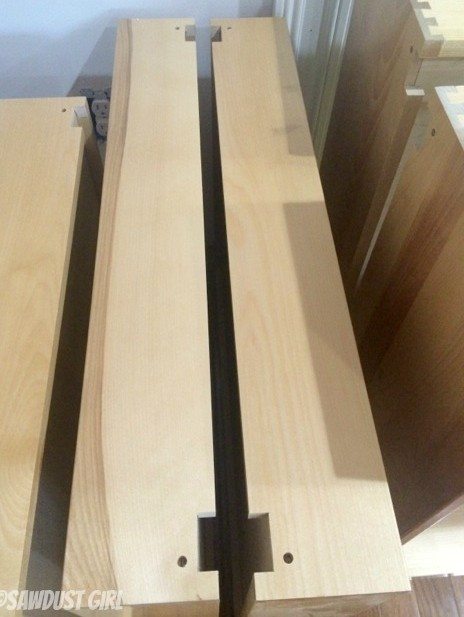 The Blum drawer slides are a bit more pricey than some other glides but they have the soft, self close feature (which I LOVE), they are mounted on the bottom of the drawer so you don't see them when the drawer is open and are THE easiest drawer slides I've ever installed.  All that is worth a few extra dollars to me.
Just remember to purchase slides AND Left and Right locking mechanisms.  Installation is so easy!
Install the
drawer slides

to the inside of your cabinet

(Tips for inset drawers here!)
For cabinets with face-frames you have to block out the cabinet side to be flush with the face-frame.  (Or use back brackets if you prefer.  I don't.)
Cut scraps of wood to support the drawer slides while you install them.
Cut one board for each drawer slide height. Install the left slide, put the board on the other side of the cabinet and install the right slide.  This ensures that each side is in exactly the same location and makes it easy to install multiple cabinets with drawers in the exact same spot.
Start with the top drawer slide set and move down.  (Or the lower slides will be in the way of your boards for the slides that need to be installed above the lower ones.)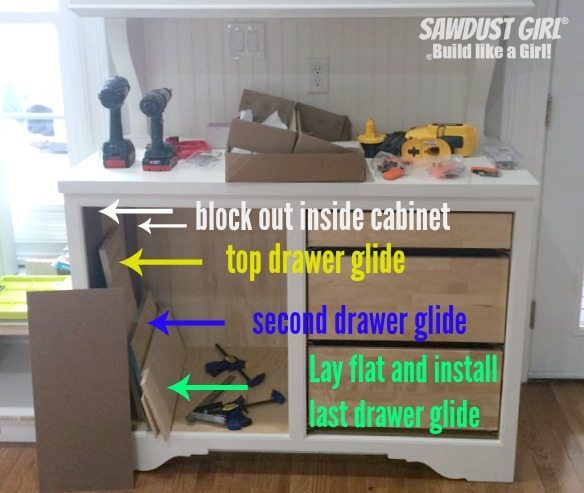 The Blum instructions say to install the drawer slide 15/16″ behind faceframe for inset drawers, which is what I'm doing.  I use a combination square set to 15/16″ to give me an exact measurement every time.
I loosely install one screw in the slotted hole, hold my combination square in place to ensure my slide is exactly at 15/16″, then tighten the screw.
For good measure I add another screw above that one!
Then drive one or two additional screws towards the back of the glide.  The instructions actually tell you where to drive your screws if you're one to follow the rules that closely.  (Maybe I am – maybe I'm not.  Not telling.)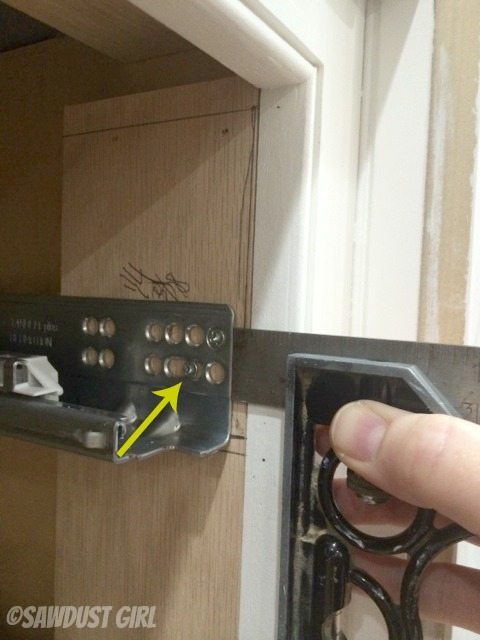 The blocking isn't pretty but it does the job.  I used scraps of whatever wood I could find that would make my cabinet side flush with the beading I added.  (Planning ahead would be great but sometimes I just wing it so I do what I have to do.)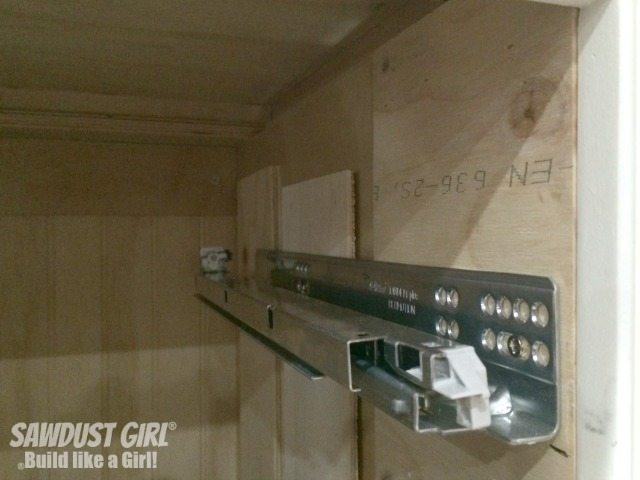 Once you get the hang of it – it goes really quickly.  Get all your slides installed on the cabinet and then you can get the locking mechanisms installed on the drawers.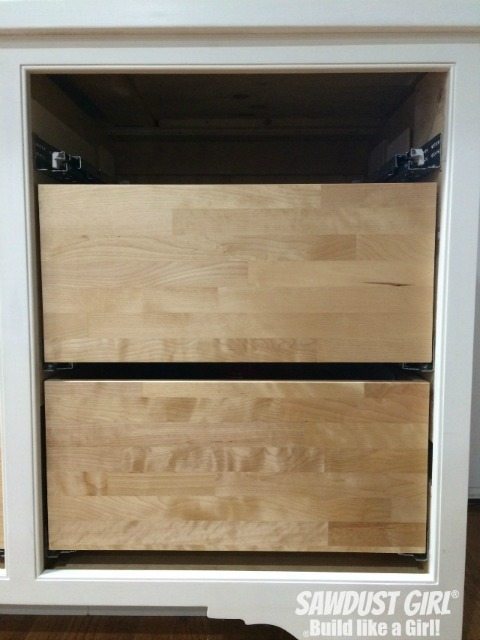 Install locking mechanism on drawers
Set the right locking mechanism in the right front corner of the drawer.
Drill pilot holes through the two holes.
Drive two screws into the locking mechanism making sure not to strip them!
Do the same for the left locking mechanism on the left side of the drawer.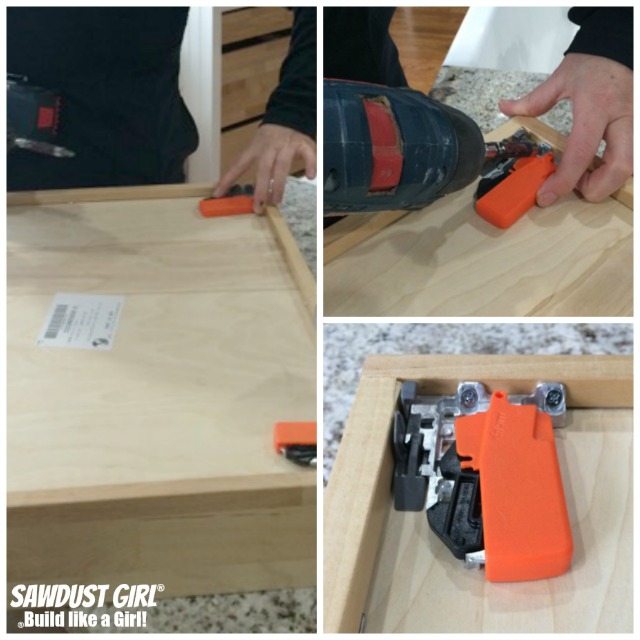 Now you're ready to put the drawer in the cabinet!  The drawer slide passes through the notch in the back of the drawer.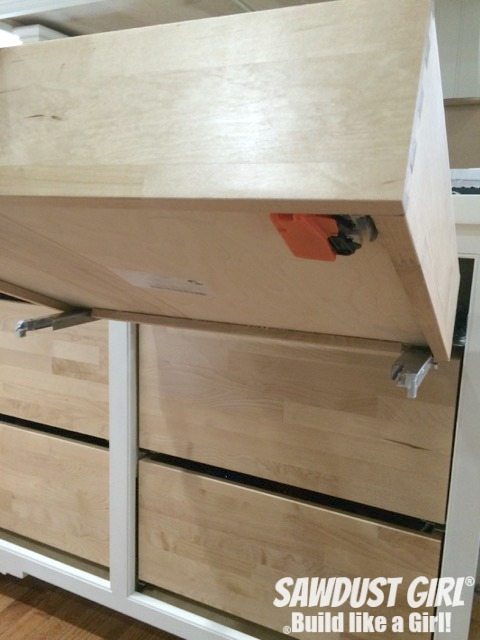 Then push the drawer back into closed position until you hear the locking mechanism click.  Then pull the drawer open and you're done!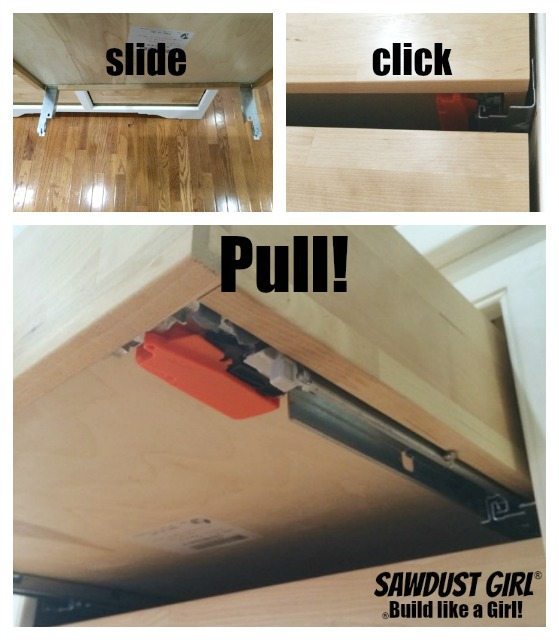 There is a bit of play with these glides so if your drawer and cabinet are not sized EXACTLY perfectly for each other you don't have to spend 6000 hours, screwing, closing, opening, unscrewing, shimming and starting all over again.  If you've installed many drawers with metal drawer slides you know what I'm talking about.
So the drawers are in now and we're using the China hutch!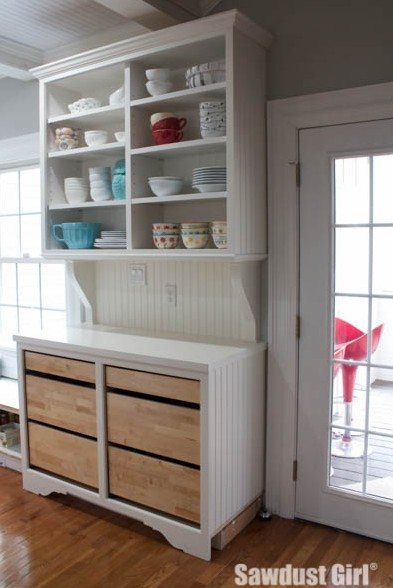 Of course I'm still not finished.  I have to address the baseboard and then build my drawer fronts and doors.  I've been waiting for warmer weather for that part because I can't "finish" 500 doors in my workshop.  I need more space which means "outside" and I need good weather for that.  Luckily, I think Spring has finally sprung so I can get to it!
Related Posts