I think I decided to go all "barn door style" on this house!
I always intended to do ONE OR TWO barn doors but the regular doors in this house are my enemy so I'm reconsidering that number.
Barn doors are so pretty and functional.
They don't take up any floor space.  They don't block your sink!   You don't have to fiddle around with shims to get them to open and close properly when you install them.  Just hang level and you're done.  Bam!  I'm sure it's more difficult than that but I'm irritated at my doors right now so I my judgement might be foggy.
I just haven't decided yet…  
How many barn doors is too many?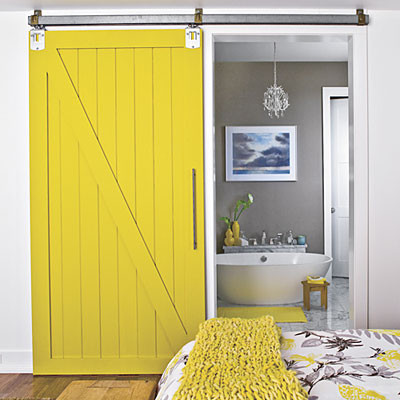 Via Houzz
Seriously, if the hardware were not $5000 per door (exaggeration), how many barn doors could one house flaunt before it became obnoxious?
 Traditional Kids design by Wilmington General Contractor Tongue & Groove via Houzz
There are lots of ways do have the barn door look with out buying the actual hardware.  DIY options are all over Pinterest so I think I CAN do as many as I want without worrying about it getting too expensive.   I'm just feeling so indecisive about the quantity issue.
Remember my Laundry Room post?  I have a LONG, WIDE hallway that has THREE doors in it.  One to the laundry room.  One to the basement…
well there are only two doors in it currently but I'm going to add a closet.  So the third one will be to the closet.  Goodbye pretty armoire — hello LOTS MORE storage!
This hallway is the current dilemma.  I switched the laundry room door yesterday (PITA) but now I'm thinking that I don't want three big doors opening up into the space.  I always intended on doing a barn door on the middle door but am considering doing three.  (I might have to steal some space from the stairs but I don't need them to be pretty.  I'd rather have more storage.)
If I could get a rail long enough to span the entire hallway and just have all three doors hanging on it…that could be kind of awesome.  Or weird.  Sometime you just don't know until you try.
It might not even work if I can't steal enough space from the stairs but it just might be able to…I'm not sure if I want to try. 
 I'm feeling SO overwhelmed at all the decisions I need to make about future projects before I can move forward with current ones.   
It's easy to make decisions when you can find inspiration pictures that give you a sense of what your vision would look like in real life.  I haven't been able to find anything like what I want.
This is the closest one I could find — but it's not indicative of my vision.  This is very rustic/contemporary.  But it IS a lot of barn doors on one wall.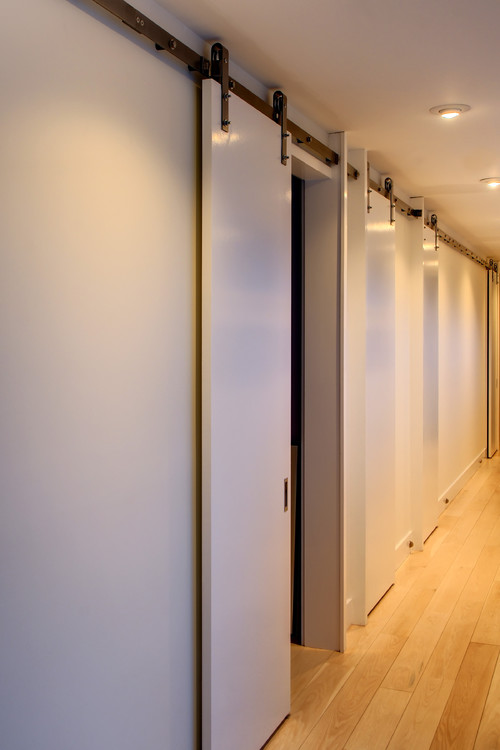 What do you think?  Would that be amazing or too much?  
You might also like: